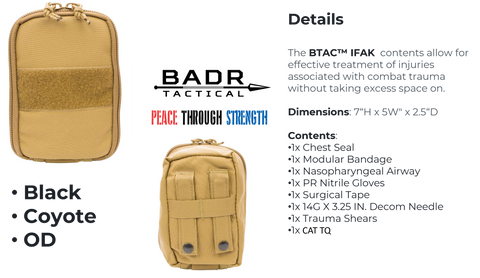 IFAK
The BTAC™ IFAK  contents allow for the effective treatment of injuries commonly associated with combat trauma without taking up excess space on individual equipment. All BTAC IFAK's are custom and built to order. 
Dimensions: 7"H x 5"W x 2.5"D closed 
Weight: 5.4 oz (empty)

Contents: 
1x Chest Seal
1x Modular Bandage
1x Nasopharyngeal Airway  
1PR Nitrile Gloves  
1x Surgical Tape 
1x 14G X 3.25 IN. Decompression Needle
1x  Trauma Shears
1x CAT TQ 
Contact us at info@badrtactical.com for specific department needs. 
Pouch may vary. 
To ensure best quality and timely delivery, we may substitute items in our kits and modules with products of equal or better quality. 
Custom IFAK orders carry a 50% restock fee.