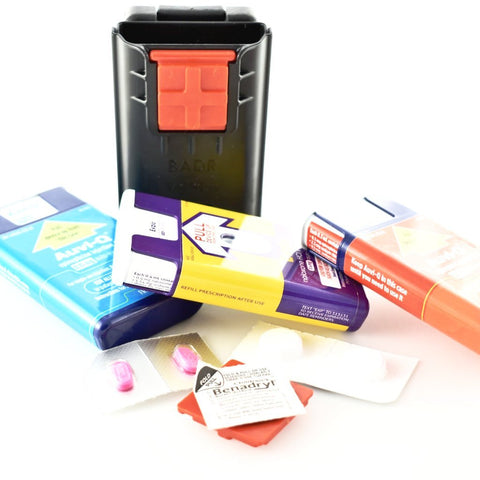 VIE
Receive 50% off your second VIE when you purchase two. Use Code VIE50 at checkout. 
The VIE offers an effective way to carry a Auvi-q and Benadryl in one place.
Each VIE comes with one (1) carry case and one (1) insert. 
Parents and professionals, gain the peace of mind knowing their loved one can gain easy access to their auto injector from a secure location in the event of an anaphylaxis emergency.
The VIE is designed to hold one (1) auto injector by Kaleo. 

The VIE insert is designed to hold most single square blister pack adult/children chewable tablet of Benadryl (diphenhydramine). 
Use all products as prescribed by your physician or as directed by its manufacturer.

The VIE will fit: Auvi-q, Allerject 
MSPR: $39.99 USD
Disclaimer
Purchase include carrier ONLY. Auvi-q, Evzio, Allerject and Benadryl  are NOT included. 
Badr Tactical makes NO claim of ownership or affiliation to Johnson & Johnson or Kaleo Pharmaceuticals.
*Patent Pending